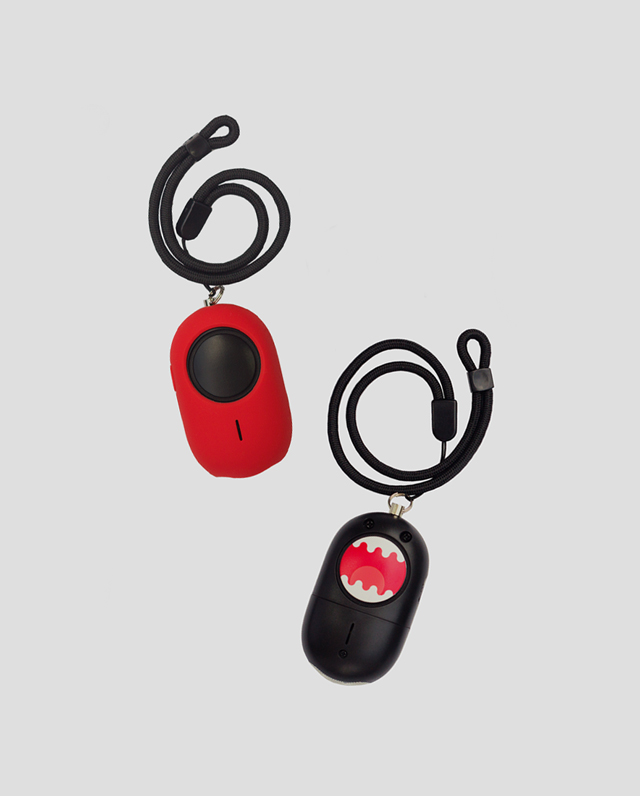 Rugged / Emoji Personal Panic Alarm + Emergency Flashlight
Battery
How often do I have to change the batteries?
Usually 9 to 12 months. However, it depends on the battery quality. We suggest you check the panic alarm sometimes.
What kind of battery is it? And how many piece?
4 pieces of LR44.
(Equivalent battery models: GPA76, D76A, S76, GPA76, PX76A, A76, EPX 76, EPX-76, G13A, V13GA, 357,357A, D357, V357, GP357, CA18, CA19, LR44, SR44,CX44, SR44W, L1154, LR1154, SR1154, 675A, RPX675, PX675A, RW82, 228, 303, S1145, E1128MP, 1166A, 208-904, 280-62SB-F9, SB-B)
Safety Alarm Device
Is it water resistant?
It has some water resistant features, however, it doesn't completely water resistant.
CDoes the flash light flash on and off when the siren alarm goes off?
There are two ways to turn the flashlight flash when siren alarm goes off.
1. When activate the alarm and emergency strobe light by pulling on wrist strap away from the device to trigger the alarm. The alarm will sound, and the emergency strobe light will flash nonstop. To deactivate the alarm, push ripcord activation pin back in until it locks into position.
2. Double press LIGHT button will also trigger the alarm. Press LIGHT button again to deactivate the alarm.
Can you shut the alarm off if you accidentally activate it?
Yes, either push the LIGHT button twice or push the ripcord pin back into the lock position.
Safety
Can I take it to the plane?
Yes, the device doesn't come with any metallic parts.
How many lumen is the flashlight?
AThe personal alarm flashlight is 200 lumen.
Which sound is louder: panic siren or human's scream?
Human's scream is about 75~80 dB and the alarm siren is 130dB. So the safety alarm is nearly 2 times louder than human scream.
How long can alarm sound when it is activated?
About 60 minutes.
How to turn on the flashlight?
1. Steady-on Mode: press LIGHT button once to turn on the flashlight. Press LIGHT button again to turn it off.
2. Strobe Mode: press LIGHT button for two seconds. Press LIGHT button again to turn it off.
Support Contact
email SUPPORT@IDEMINC.COM
Warranty
This product is covered by a warranty for a period of one (1) year from the original date of purchase. For more information, please visit our product website.